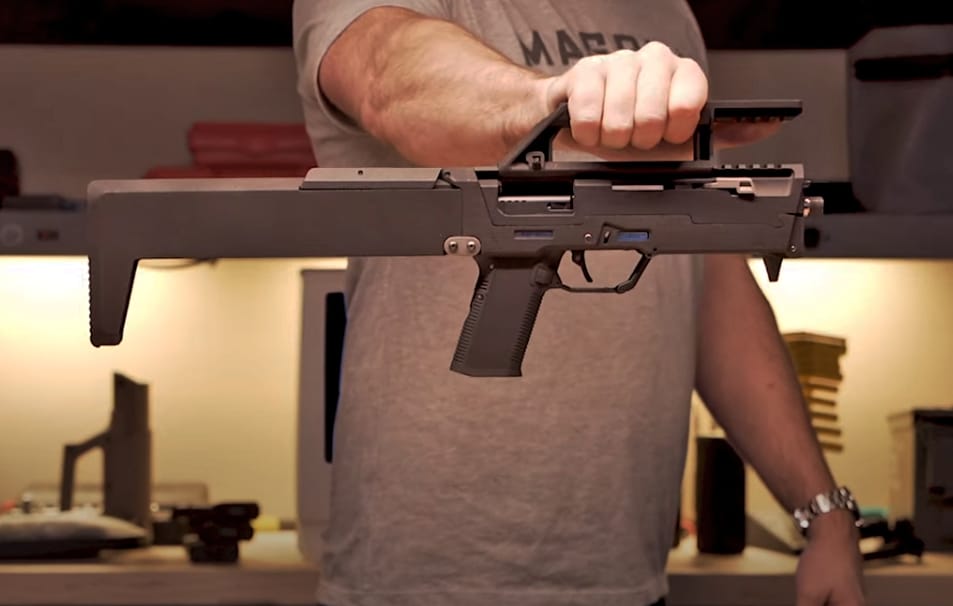 As you may have already heard, the FMG9 is gonna happen. Some of you may recall the FMG 9 from a SHOT Show over a decade ago (and an episode of Ultimate Weapons some year later). It was Magpul's "briefcase gun", and it caused quite a stir — though no one could get behind it on the range, cuz it wasn't a production gun.
Happily, thanks to a collaboration between Magpul Industries and ZevTech, that is gonna change.
Watch the following video all the way through (you can scroll down for the original).
It's about time!
Remember it when it appeared on Discovery Channel's Ultimate Weapons?
Learn more on the Magpul new products page.
David Reeder's Wu Tang name is Lucky Prophet. He is a retired AF veteran, former Peace Officer, and current Tier 2.5 writer-operator. Over the course of his career, he has worked a variety of billets, including patrol, training, SWAT, PIO, and Operations. He has served as an Observer-Controller at the National Homeland Security Training Center, a MOUT instructor, a tracking instructor, made a cameo appearance in a Mat Best rap video, and once, way back in the 90s, fell asleep on duty while assigned to augment a POTUS security operation. Reeder has written for a wide array of publications in print and online, by virtue of which he has a well-earned reputation for tactically lexiphanic insight. Although he only updates his website once in a very great while, he can absolutely be relied upon to post to social media (@reederwrites) at least once a month. -Ish.
View original Post